April 2008
More of Too Long in the Wind
• • •
Seeking the distant goal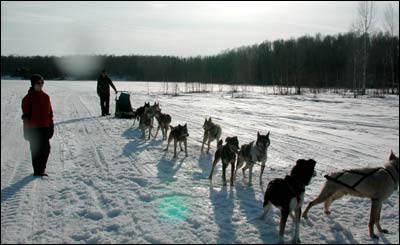 [April 30] Several years ago, our son Sam adopted a husky culled from a racing kennel near where we live. In his young mind, Sam was ready to mush Buddy to Nome on the Iditarod Trail.
As he is only now turning 12, he hasn't gotten far in his dream trip. A little over a week ago, however, he had the best two-hour adventure of his life: He mushed the first few miles of the Iditarod Trail Sled Dog Race route.
Back in March, Sam was taken under the wing of Jeff Deeter, whose Iditarod website I created this past winter. As thanks for my work, Jeff offered to take Sam and me on a ride this spring.
We met up with Jeff in mid-April at Willow Lake, north of Anchorage. The lake was still frozen and wore a layer of new wet snow. Planes on skis sat at one end of the lake. From the official starting point by the community center, the Iditarod route crosses the lake, jumps across a few hundred yards of soil, then heads across another lake on the way to the Susitna River and points northwest.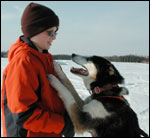 Jeff packed us up in the basket of his sled and let us get used to having a 10-dog team of veterans and pups kick snow in our faces as we crossed the lake at 12 mph. On the second lake, Jeff stopped the sled and invited an awestruck Sam to stand on the runners with him as we completed the run out and back.
It was Jeff's last trip on the Iditarod Trail for some time. He left a week ago for Juneau, where he'll be living on an island this summer and using his team to pull carts laden with cruise-ship tourists. When the leaves turn, he'll head up to Fairbanks for college. He's selling most of his dogs to another musher.
Jeff grew up reading about wild Alaska and the Iditarod, and at age 19 he is one of the youngest mushers to have completed the race. This run on the trail was the end of a big period in his life, but in sharing the moment Jeff passed to Sam an invitation to a new world of adventure and accomplishment.
Isn't in nice when we meet someone who inexplicably chooses to do that for us? As you and I grew up in Pawnee Rock, we each must have had one or two friends -- bigger kids or grownups -- who let us in on an adventure that over the years came to mean much more than we first expected.
After Sam and Jeff unhitched the dogs, Jeff pulled from his pickup a few tangible gifts for Sam: a framed photo of Tears (Sam's favorite dog), a harness, and the booties and jacket Tears wore as she led Jeff's team into Nome.
Sam has accomplished great things before; as a steadfast 11-year-old last summer he pedaled his bike across Kansas. This month, it meant a lot to me as a father to look back and find two young men who know what it is to seek a goal beyond the horizon.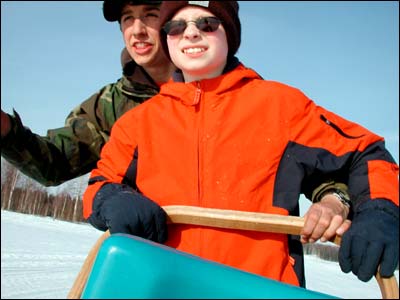 ---
Virgil Smith, a boy on a farm
[April 29] Virgil Smith, who was raised on a farm northwest of Pawnee Rock, read yesterday's piece about the hay rake and sent us a piece he had written for his family.
'Growing up farming,' by Virgil Smith
It seems as if there was a tremendous change during the years that I was growing up -- both in the way we farmed and how we lived. Maybe this is a common perception of each generation or, maybe it was because my early years were during the depression and available money was limited.
My early memories of farming included a lot of farm work being done with horses. We had a team that seemed enormous to me. They appeared to be Percherons. Sometimes, my father would allow me to ride on the back of one as we were coming home from the field with a load of hay. Its back was so wide that I felt like I was doing the splits. When I got older, I could ride bareback and try to squeeze my legs around the horse.
I remember my older sister, Marge, riding bareback and the horse running across the field. She got to bouncing up and down and landed on the ground. As I remember it, she had some large black and blue places from her fall.
We had a tractor with steel wheels and lugs, but it was used for heavy fieldwork. The horses were for mowing, raking, and pulling the hayrack, wagon and binder. The available varieties of oats and barley seemed to shatter their grain before they were ready to harvest, so we would bind them into bundles with the binder and then the bundles would be put in shocks to finish ripening and, when ready, thrown onto the combine platform to be threshed. That way the grain stayed in the head.
Cane and Sudan grass were used for livestock feed and were bound and shocked, also. My dad often had me climb up on top of the hayrack and arrange the bundles so that they wouldn't fall off as it rolled along.
When the team of horses got older, my uncle Leo had a team of mules that he was no longer using and let us use them. I was getting old enough to drive them and did some cultivating of maize with them. They were hard working, but had a mind of their own and were as stubborn as . . . mules. The cultivator had foot pedals that helped guide it. If you got careless, you could wipe out a stretch of the maize row.
We had a large Case combine that we pulled with the tractor. It had a 16' platform with a sickle and a long, rotary canvas that carried the cut wheat to the cylinder to be threshed. When I was smaller, I would ride in the large grain tank on it and play in the wheat. As I grew older, I shoveled the wheat back in the truck and the bin as it was being unloaded. When big enough, I got a full job unloading wheat or driving the tractor.
We didn't have grain augers nor dump trucks in the early days, so the wheat was shoveled by hand. I got so that I could unload our '36 one-half ton Chevy pickup in good time with the shovel. With the sideboards, it held about 55 bushels of wheat.
---
Cold water on a hot stove
[April 28] Yesterday our sons were following a CD recording as they read their weekend assignment, "Little Britches: Father and I Were Ranchers," by Ralphy Moody. The story is about a young feller who was growing up in the high plains south of Denver during the first decade of the 20th century.
I happened to overhear a few paragraphs in which the boy is riding a horse-drawn rake. Maybe this will sound familiar to you:
"The ground was bumpy where the bean rows had been, and the big high wheels of the horse rake bounced over them so that the iron seat jumped in every direction. The iron was smooth and slippery, and my bottom hopped around on it like a drop of cold water on a hot stove."
Now, I've never ridden a horse rake, but I sure do remember those cast-iron seats on Grandpa Unruh's tractors. They were as cold as you'd expect in the winter, but in the summer they were excruciatingly hot. I thought of them as a frying pan with holes, and I liked it when Grandpa (or maybe Uncle Laramie by then) decided to switch to the pampered life and strapped a thin pad atop the seat.
Maybe you too remember sitting in that hot seat, holding the slick metal steering wheel with its suicide knob and pressing the pedals. For relief, we kids climbed on the tall wheels and the big fenders, and the aroma of oiled tools and grease guns could not be blown away even by the midafternoon winds.
But the part of Ralphy Moody's story that really struck a chord with me was the bit about the hot stove.
My grandparents kept a big iron stove in their kitchen into the 1960s, and I assume that families in Colorado had much the same range on their range. Seeing water dance on the stove must have been a universal part of life, and I wouldn't be surprised if all kids flicked a drop or two onto the stove just to amuse themselves until their parents got tired of listening to someone have fun when there were chores to do.
My dad, Elgie, eventually installed a gas-burning stove in his carpentry shop downtown, but each cold morning for years before that he fired up a potbelly stove.
On snowy Saturdays and around Christmas, I spent a lot of time in the shop. I usually was in such a hurry to get out of the wind that I'd not even bother to knock the snow off my black galoshes with the big treads and fold-over hooks before going inside.
It was my pleasure on those days to keep the fire going with scrap lumber or coal. Dad didn't worry about my hanging around the stove; I think he was a believer in the "once burned, twice shy" method of education. So I'd sit there within the stove's warm circle and play with scraps or read one of the old Grits he collected in paper sacks.
It didn't take long for me to discover a greater purpose for the snow I brought in. I surreptitiously tossed chunks of it onto the cast iron and made the moisture dance until it was all sizzled out, and then I'd go out and get more snow.
And that is why I'll always think of Dad's stove when I hear of "a drop of cold water on a hot stove."
I doubt that the present young generation understands hot stoves (electric ranges, perhaps) or cast-iron seats or even horse-drawn rakes, for that matter, and there's probably no sense in telling them about it in a long-winded story that starts out "When I was a kid . . ."
No, kids learn by doing; it's our duty as parents to shut our mouths once in a while and let them fry their own bottoms. I probably don't remember half the things my parents told me, but I will never forget the heat that can be packed into cast iron.
---
Hail, my sister Cheryl
Cheryl as a high schooler in Pawnee Rock, eating flowers.
[April 27] I could go on and on about the value of sisters -- or at least one sister, mine.
We all know that a sister's a great thing to have, yet many of us don't appreciate our sisters as much as we should. Or maybe we do but don't tell them often enough.
I have a dandy sister -- Cheryl -- who is smart and modest and funny and a darned good writer and as Kansan as you can be. This is her birthday week, so if you see her please treat her like royalty.
---
Remembering Jack's Drive In
[April 26] Ray Randolph, a reader and writer and owner of an earlier book of quotations by Robert Byrnes, has a soft place in his heart for Kansas burgers:
"I'll bet you would have liked Jack's Drive In at Lyons, Kansas.
"Burgers with hot grilled onions and lightly grilled buns. And the fries were good, too. Ate there a lot during my one year at LHS. Always ate there whenever I went back to Kansas. Last time was back in the late 80s. Pulled up and parked, mouth and stomach alive with anticipation, to discover the place was closed and out of business. Broke my heart, to say nothing of the effect on my mouth and stomach."
---
A photo I like: No. 84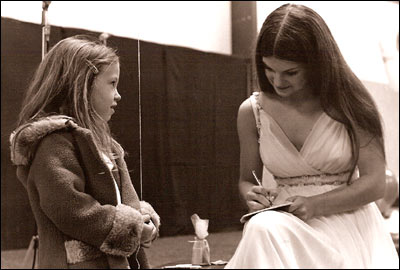 [April 26] Miss Kansas 1974, Karen Dianne Smith, appeared at the 3i Show in Great Bend, where she performed (piano, I think) for the implement shoppers and wrote out a message for an adoring grade-schooler.
Karen was Miss Shawnee, from Kansas City, and won a preliminary swimsuit award and a talent award at the Miss America Pageant. She also toured with the Miss America USO Troupe and may have been a cheerleader at KU.
The 3i Show, held at the north end of the Great Bend airport, was great for attracting the who's who of Kansas pageantry. The following year, the Kansas Pork Queen attended.
This year's 3i Show (for those who don't remember, it's irrigation, implement, and industry) is May 7-9 in Great Bend.
---
Alan Dunavan dies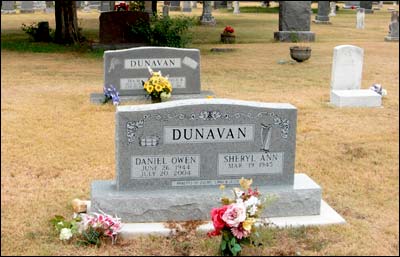 Alan Dunavan's brother Daniel and his parents, Ira and Mildred, are buried in the eastern section of the Pawnee Rock Cemetery.
[April 26] Alan Dunavan, a son of Ira and Mildred Dunavan, died Monday in Leavenworth at age 59. He was educated as a trumpet player and a lawyer, and he spent most of his career in the Army's Judge Advocate General Corps. He was a retired lieutenant colonel.
Alan grew up on the family farm a couple of miles east of the Mennonite Church. The prairie dog town that was there when he was young is still there. In high school, he was a member of the Argonne Rebels Drum and Bugle Corps in Great Bend. He graduated from Pawnee Rock High School in 1967.
His mother was a longtime third-grade teacher in Pawnee Rock, and one of his daughters, Colleen Sara Dunavan, lives in Pawnee Rock now. He is survived by his wife, Janet; another daughter, Susan; and his brother, Bob. His other brother, Daniel, and his parents died earlier.
Alan Dunavan will be buried at 1 p.m. Monday in the Pawnee Rock Cemetery. (Full obituary on April 24)
---
. . . And you can quote me
[April 25] Back in the days before we had children and thus had money, I used to eat three or four times a week at a hamburger joint near my newspaper. Max's Beefy Burger has orange formica tables, a noisy video game, a cracked glass door, constant traffic outside the door, and decent iced tea and steak fries.
It's noisy and visually jarring, and the parking is not inviting. It's a good place to read.
(It's different from reading long ago during lunch at Larned's Burgerteria, where as a Tiller and Toiler reporter I was almost always going to see someone I knew and would have to talk to. The Pizza Inn was better; nobody went there.)
You're getting this from a guy who used to read a book at every family meal, laid on my lap under the table or held in one hand off to the side while my parents and sister talked among themselves and my sister's cat climbed the screen door at my side and screeched.
I'm still that guy; no matter what goes on around me, I'd almost always rather lose myself in a book. Back in my hamburger days, I kept a few novels in the car for such occasions, but my favorites were large paperback books of quotations.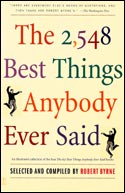 I love to be inspired by quotations that drip with wisdom and by those that are just trenchant and pithy. That's why I was pleased recently when I came across "The 2,548 Best Things Anybody Ever Said," selected by Robert Byrne.
Here are a few quotes, flavored with smart-aleck East and West Coast attitude, that I think you'll find amusing or at least pithy and trenchant:
"I hate small towns because once you've seen the cannon in the park there's nothing else to do." -- comedian Lenny Bruce
"Historians have not definitely established that Juan Cabrillo, discoverer of California, was not looking for Kansas, thus setting a precedent that continues to this day." -- Wayne Shannon
"It isn't necessary to have relatives in Kansas City to be unhappy." -- Groucho Marx
"Cats are intended to teach us that not everything in nature has a function." -- Garrison Keillor
---
William Mull, success story

William Mull is buried near the row of trees on the east side of the old part of Pawnee Rock Cemetery. With him are his wife, Anna, a second Anna, and infant sons. Beyond their plot is the grave of Marian Mull.
[April 24] William "Bill" Mull lived northeast of Pawnee Rock; his family property was a mile north and two and a half miles east of the Mennonite Church. How he got that property -- and held on to it -- makes his life especially interesting.
This sketch of Bill Mull, born on the Fourth of July, came from the "Biographical History of Barton County, Kansas," published in 1912.
William Mull
The life story of William Mull who owns a four hundred and eighty acre farm ten miles southwest of Great Bend, deserves a prominent place in the History of Barton County, because of the success he has made of life. He was born July 4, 1872, in Staunton, Illinois, his father's death occurring shortly after. His mother, Mrs. Louisa Mull, married Frederick Viehl and he came with them to Barton County, Kansas, arriving on September 10, 1878. His stepfather homesteaded eighty acres, but died on August 17, 1895, the mother also died in October, 1900. Their real and personal property was heavily mortgaged and was sold to pay their debts, and at twenty-three William Mull faced the world without credit or money.
He had, however, in the fall of 1892, begun farming on rented land with a part of his step-father's mortgaged horses and implements, and to hold them for use paid interest as high as 18 per cent to 24 per cent. The period between 1893 and 1896 were disastrous and all was lost or paid out on debts; but in 1897 a crop was made and he purchased his first hundred and sixty acres, which is a part of his present farm. Later he bought three hundred and twenty acres adjoining and farms four hundred and eighty acres, the equal of any in the county.
He has this improved with a two story frame residence containing eleven rooms; a very attractive barn 32x38, with large hay loft and stalls for sixteen horses; an elevator with capacity of 10,000 bushels, and sundry other outbuildings. He cultivates wheat and corn exclusively, and breeds only a limited number of horses, cattle and hogs for his own needs; but he makes every acre a productive one and the hard times of the '90's seems far back in the distance. It took, however, great will power and fortitude to pass that period, and he learned lessons then that will last for all time.
William Mull and Miss Anna Puttner, of Olmitz, Kansas, were married on November 10, 1895, and they have been blessed by five children: John Frederick, 15; Mary Louisa, 13; William Joseph, 9; Elmer, 5, and Lillie Josephine, 2.
William Mull is not old and the boys call him "Bill," and for this reason he loves "the whole Bill family." Sometimes he becomes reminiscent and tells things happening in the past. When we met him Bill Townsley was in his mind, and for fear that Bill might fail to mention the circumstance in his own biography, wants it known that Bill Townsley worked for him in the harvest of 1897; and that the pay was 75 cents per day. He labored faithfully for two days, but on the third quit at noon.
Going to town he found his parents had left for Denver, and followed, but on arriving there he failed to make connection with the family purse and became stranded in a strange city. How he got home is the best treasured joke of Bill Mull's life, for a month after harvest Bill Townsley and a centenarian burro drew up in a ramshackle cart at the gate; collected $1.87-1/2 and departed for town. When "Bill" denies and "Bill" affirms, it is hard for a historian to record it as a positive fact. Ask "Bill."
---
High land, high hopes. Enough water?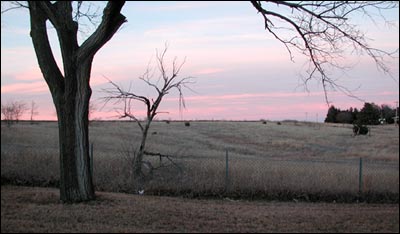 [April 23] One of the endearing facts about our ancestors is that they believed that Kansas was a fallow garden awaiting only the plow. And after the plow did its work, rain would follow.
And thus was Kansas populated by the hopeful.
That came to mind when I saw a photo Jim Dye sent earlier this month of a pond site being scraped out of the old-growth prairie just north of the Rock.
We all know of a dozen stock ponds in the limestone hills north and west of Pawnee Rock. The one thing they have in common, besides their purpose of watering livestock and giving the landowner a place to raise catfish, is a watershed.
A successful pond's water comes from a few hundred acres made up of the owner's farm and the one "upstream." The water may arrive via a half-hearted creek, but mostly it slithers through a gully that gets pretty muddy several times a year.
Water availability is what makes the new pond near the Rock such an oddity. The location, near the ridgeline, doesn't seem logical. The watershed it would be the catchbasin for is not large enough to shed enough water to do more than lubricate a few cattle part of the year and give them a mudhole to stink up. (I suppose one option would be to pump water out of the aquifer and into the pond; the nearby center-pivot could do that quickly.)
Now, this is just me talking, and I don't live in the township anymore and so my opinion is just my opinion. But one of my favorite sights around the Rock was this last bastion of dry-land grass, the final place around the Rock where one could imagine trail riders and Kiowas.
I concede that it's not pristine land. Forty years ago, someone was storing ensilage in a trench or two dug in the soil there.
One doesn't put ensilage in ground that gets a lot of rain.
Larry Smith, a Pawnee Rocker who now lives in Wichita, suggests another issue: "the dam being built directly north of the rock ... may threaten it with moisture seepage."
So, we'll see how the landowner's hopes work out. Maybe this will be Kansas' year for rain.
---
The little woman's little home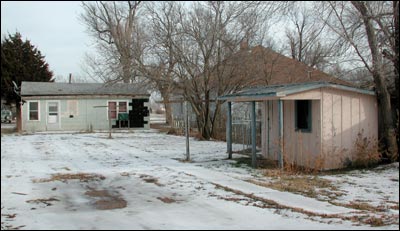 [April 22] A nice thing about being a kid is that you can stretch your mind to fit any set of facts.
This is the backyard of a house once owned by Mrs. Howerton (Mayme, I think). It was between the Flicks and the Rosses on Centre Street north of the Christian Church. This view is from the alley behind the old fire station, and we lived beyond that.
One time I pointed at the little house and asked my dad whether anyone lived in it. I assume he figured I was asking about the full-size house, and he said a lady lived there. After all, anyone could see that the building in back was a garden shed . . . anyone but a credulous little boy to whom the shed looked big enough to live in.
So for many years I took it on faith that a little woman lived in the little house, and I was happy in that knowledge. It fit in with the stories all kids read about old ladies who lived in a shoe and Alice in Wonderland and women who are shrunk by a wizard's spell. It made Pawnee Rock a magical town and my block slightly mysterious.
Eventually I figured out, to my disappointment, that the little house was just a garden shed (there was a big garden in those days).
I learned from that long-running episode -- and others involving careless remarks by teachers -- that I should be careful how I answer my own sons' questions. Still, I don't want to steal their wonder. I want them to believe that anything is possible, no matter how unlikely.
It makes growing up a lot more fun.
---
The value of real estate
View Larger Map
Zoom in to find Hornsea Lane. My land was just north of the cul-de-sac.
[April 21] Back in 1984, when I was single and working in Wichita, I filled in one of those "contest" entries at the state fair. I won a couple of free nights' stay in a house at Bella Vista Village in northwestern Arkansas just north of Bentonville.
The deal was that I had to listen to a sales pitch from Cooper Communities, the retirement town's corporate owner.
My mom's parents had lived in the country near Fayetteville for a while when I was a kid, so this Pawnee Rock boy grew up loving the chert-spiked trails and the oak smell of the Ozarks. My parents had even taken me on a paddleboat ride at Bella Vista when I was in grade school and the village was barely more than hillbilly hollers with paved roads.
When the grandfatherly salesman drove me up and down streets with pretentious British names, I was an easy mark.
Being a real estate rookie, I believed the salesman when he told me that the land would become even more valuable and that people were competing to buy property.
"I'll keep it for a while and then sell it to an old couple for a real profit," I told the salesman after he bought us each a beer to celebrate my purchase of land along Hornsea Lane.
"Well," said the salesman, "some of those old people are pretty sharp."
I should have caught on right then.
The land was egregiously overvalued, and when I sold it in 2003 it went for less than half of what I paid for it.
But in the meantime, for 19 years I had a little piece of land all my own. I owned oak trees and grape vines, poison ivy and ticks. If I was willing to drive that far, I could sit all day and all night on my gentle hillside above the tail end of Lake Ann and listen to the leaves rustle.
I guess the entertainment value was worth the cost.
Had I stayed in Wichita, I probably would have put a house on the property and, like many Kansans, had a vacation getaway in a golf-course town packed with retired Iowans and Wisconsinners and now Wal-Mart bureaucrats.
My neighborhood wouldn't have been crowded, however. As you can see on the map, there still hasn't been a single house built on my street.
---
The things we miss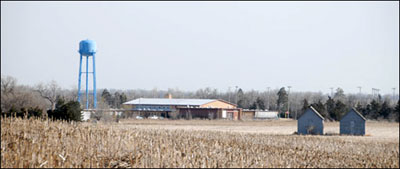 The twin granaries, photographed this past week by Jim Dye.
[April 20] For all my life -- and for maybe all of yours, even if you're a generation older -- these two granaries have sat in the middle of a field southwest of Pawnee Rock State Park. They're as nondescript as can be, just two silver-gray remnants of the old days.
I've always known the buildings were there, but not once have I ever walked out to investigate them as I might have expected myself to do. (Trespassing laws notwithstanding, you know as well as I do that kids go just about anywhere they want.)
Were they built early in the 20th century by Benjamin Unruh, who owned the big house to the east? When were they last used? Is there an abandoned road to them?
I wonder what it is that lets us miss things like this in our lives. In five years, what else am I going to kick myself for not knowing more about?
---
A photo I like: No. 83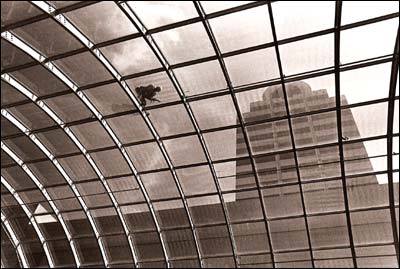 [April 19] When my wife and I lived in the Dallas area in the late 1980s, I carried one camera or another everywhere. A shopping trip to the Galleria, a mall in North Dallas that may contain as many acres of land and floor space as all of Pawnee Rock, provided this scene of a guy performing some kind of work on the atrium's plastic roof.
I snapped a couple of shots, thinking, "There's something you don't see every day."
A few months later, American Photo magazine ran a contest in which subscribers could submit entries on a theme. One month the theme was "boxed in," and my Galleria shot was one of the winners. There was a cash prize of $30 or so, and I spent it on extra copies of the magazine.
---
John Lile, buffalo hunter and farmer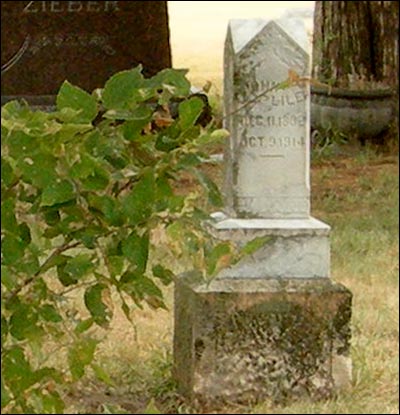 John Lile died October 9, 1914, and is buried on the east side of the old part of the cemetery. His wife is not buried with him.
[April 18] It's in our culture to imagine that our town's forefathers were successful pioneers. But let's look at John Lile.
John Lile and his wife, Eva, arrived from Illinois in May 1872, shortly before the railroad did. If you read between the lines of his biography (from the 1912 "Biographical History of Barton County, Kansas") you'll see that anything he got didn't come easy, except for the early days when he shot all the buffalo he wanted.
After the buffalo were all shot up, however, he settled down to farm west of Dundee on this: "Grass, trees or vegetation could hardly be coaxed to grow, and the soil was so hard that the rain would not penetrate the earth."
This sentence seems to say a lot about the tough times of the late 19th century: "His wife is also well preserved and has been a true helpmeet during a life of exposure on the plains."
Albert Lile, the first son of John and Evaline, for a while owned the quarter-section immediately west of the land on which the salt plant sat. One of the daughters, Ada, married a Gano and moved to Hutchinson; perhaps she married grain-elevator magnate Charles Gano, who got his start as a businessman in Pawnee Rock.
JOHN LILE
Among the pioneer citizens of Barton County, John Lile, who lives two and one-half miles west of Dundee, may be classed, because it was on May 2, 1872, that he first settled in the county on a homestead entered in the neighborhood of his present home. At that period he says he was not favorably impressed with the locality as a farming locality; but as he was a young man then, and game was plentiful on the plains he considered it wise to set up a home.
Buffalo, antelope and other wild game was in abundant and he at first made good wages by following the chase, and he killed and skinned buffalo for a number of years and sold the meat and hides. In this business he became acquainted with most of the old timers of the early days, but hunted most with Newt Smith, of Pawnee Rock, Judge Morton (deceased), and George Lile, a brother who died some years ago. They had great sport and often went as far west as Dodge City on their trips. By that means he was permitted to see that frontier town when it was passing through its toughest period, and if he would he could recount some thrilling encounters between some of the bad men of that day.
When the buffalo got scarce he gave his time to farming with about the same result as others of his section; but after a number of bad crop years sold his homestead for a small price and has rented the land since farmed. At present he is a tenant of his daughter, Mrs. Sarah Gilbert, and at seventy-nine years of age is able to do most of the work. His wife is also well preserved and has been a true helpmeet during a life of exposure on the plains.
John Lile was born December 11, 1832, in Adams County, Illinois, and grew to manhood on a farm. He married Miss Evaline Duff, of Adams County, Illinois on October 10, 1861, and they have been the parents of eight children. Six are still living, as follows: Albert Lile, Pawnee Rock; Mrs. Ida Smith, Pawnee Rock; Wm. Henry Lile, near Pawnee Rock; Mrs. Sarah Gilbert, Pawnee Rock; Harry N. Lile, near Pawnee Rock and Mrs. Ada Gano, of Hutchinson, Kansas.
Mr. Lile is at this time a great believer in the wonderful productiveness of the soil of Barton County, but when be first came here he considered it of little agricultural value. Grass, trees or vegetation could hardly be coaxed to grow, and the soil was so hard that the rain would not penetrate the earth. His testimony is that cultivation made the seasons and the crops that afterward came, and that a great debt is due those who come first and persisted until the present conditions prevailed.
---
Inside the elevator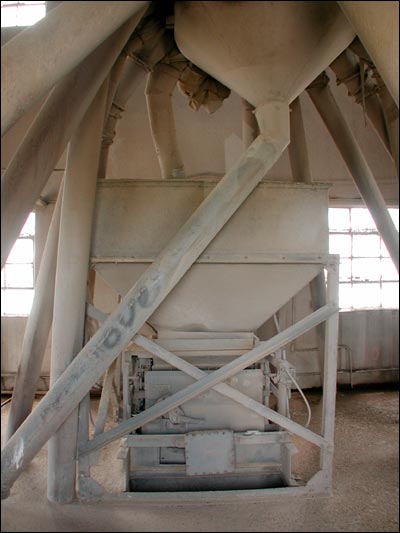 This headhouse device, coated with grain dust, spreads grain among the Farmers Grain bins after the grain has been lifted from the trough into which trucks pour it.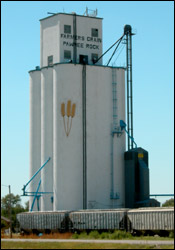 [April 17] We from Pawnee Rock are all proud of our big Farmers Grain elevator. It has stood there along the highway for more than 50 years, a lifetime to some of us. We'd recognize it just about anywhere, with its blue appurtenances and blocky headhouse.
As children, we were taught that the world's biggest elevator was only a short drive away in Hutchinson. I don't know about you, but I took it as completely natural that we lived so close to such a monstrosity. Central Kansas, we learned, is the best wheat country in the world. (Read Amy Bickel's story.)
I've been by the big elevator in Hutch a handful of times, but never in it. But anybody who has stood inside our elevator -- in the guts, between the towering bins -- can imagine what it's like in Hutch.
It would be dusty. Walls covered with warning signs about smoking. Danger waiting to happen.
Back when I was in high school and was bursting to photograph Big News, I was particularly on the lookout for exploding elevators, which would have been the most stunning thing to ever occur in most towns.
I read about it once in the Hutch News; a grain-dust explosion had happened in another state. I mentioned it at the supper table and said something along the lines of "wouldn't that be neat to see."
Mom was properly aghast at the little monster she had raised, yet she gently reminded me that such explosions kill people.
If that had happened in Pawnee Rock, she said, it would have killed people I knew.
I ducked back into my teenage persona and didn't say anything else. But I thought about what Mom had said.
Today, I work in a business that hard-heartedly deals out stories and photos about death and destruction to subscribers who apparently never get tired of reading about such things. However, with every explosion, with every car wreck and plane crash and tornado, I remember what Mom said.
These could be people I know. They could be people you know.
So, the next time you pass an elevator, tip your cap to the guys who work inside the world's largest firecrackers and hope we never see them in the news.
---
Stan Finger on the Weather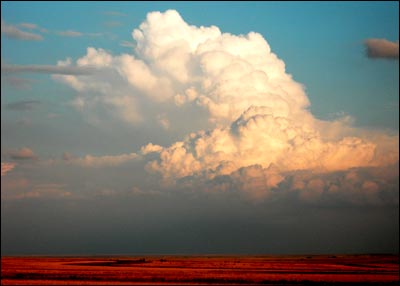 [April 16] Stan Finger isn't a hometown boy, but he's from Rozel, which is the next best thing. For 25 years, he has been a reporter for the Wichita Eagle, where he and I were coworkers for a couple of years in the mid-1980s. I had known him for a half-dozen years before that, from the days when the Pawnee Rock 4-H club was associated with the Pawnee County 4-H clubs and we shared a county fair (he raised pigs).
In addition to his heavyweight reporting for the Eagle, Stan has started writing Finger on the Weather, a meteorological blog, for the Eagle.
With crazy-weather season about to sweep across the plains, I'm sure Stan will have lots of entertaining material. I just hope none of it involves anyone we know.
Check it out.
• • •
A death in the family: Thank you all for your condolences and considerate remarks about the death of my Uncle Jay. I appreciate them greatly.
---
County road signs
[April 16] Justin Cozart of Dallas writes: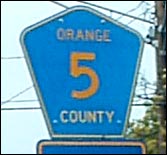 "I have sort of an odd question. I'm working on a map project for Western Kansas and I want to make sure I get the county highway signs correct on my graphics. I was wondering if you could tell me if the county route marker signs in Pawnee and Barton counties are blue pentagons with yellow type -- like this -- or if they are different.
"They are the only two counties I can't figure out ... or just if you've ever seen any blue signs like that in either county would help!
"Thank you for your help.
"Sincerely,
Justin Cozart
Dallas, TX"
I personally cannot help Justin with this problem, but perhaps someone who has a Barton or Pawnee county road handy can check out the signs and e-mail Justin with the answer.
(May 1: I've removed Justin's address. He got his answer and thanks everyone.)
---
Joyce DeZalia and the Fosters
[April 15] Joyce DeZalia has quite a hand with the family album. She collected photos of her great-great-grandparents and their biographical history, then compiled them into electronic album pages.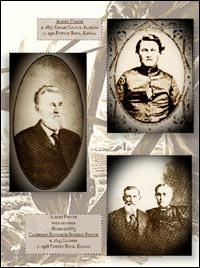 And because these ancestors were Albert and Catherine Foster, she's sharing the pages with us.
The Fosters arrived in Pawnee Rock in 1876, four years after the railroad passed through the area and our hometown was founded.
An interesting detail in her research shows that Pawnee Rock had at least two schools before the sandstone school was built on the north side of town.
One page of Joyce's work is on today's homepage, and the two others are in the Gallery.
Joyce also wrote a note to accompany the biographies and album pages:
"I am putting together an album of old family pictures and stories, and your site is the best I have found for local history and pictures.
"My great grandfather was TP Nichols and I will be sending in his verbal history later.
"My grandfather was Lovejoy Louis Gilbert and my father was Russell Gilbert, who had wonderful memories of playing on the "rock" and who is now buried in the cemetery.
"I also have fond memories of my great bachelor uncle, Dale (Heck) Nichols who lived in Pawnee Rock all of his life."
Without further ado, here is Joyce Gilbert DeZalia's research on Albert and Cartherine Foster:
Albert and Catherine Foster
Here are pictures of my great great grandfather and grandmother, Albert and Catherine Foster and their children. They were early settlers in Pawnee Rock.
Albert Foster was of Irish and English ancestry. He served a full term in the Civil war-Aug 1861 to Aug 1864 on the Union side.
Three brothers and one half brother all joined the Army at the same time, served full term, all returned home alive, all were privates.
Albert enlisted in the union Army 8/1/1861 in Springfield, Ill. He served 3 years with Co. F. 59th Reg., Illinois Infantry. He drove an ambulance to the battlefields with a team of mules. Albert was hospitalized in Louisville, KY for several weeks due to a severe illness during the Civil War. He was discharged August 11, 1864 after serving 3 years. His discharge papers describe him as 5 ft 8-1/2 inches tall, fair complexion, blue eyes, and curly brown hair.
Catherine Bowman was born in Crawford Co., Ill., June 7, 1845. The daughter of a farmer, she attended grade school; a tall stately person with dark curly hair and blue eyes, a keen sense of humor with a determined personality. After the Civil War she and Albert Foster were married in 1865.
They sold the farm in Illinois and came to Pawnee Rock, Kansas, by train around 1876; with $1,000 they bought 160 acres (minus railroad right of way) joining town and 160 acres timber claim four miles north of Pawnee Rock.
Two of Catherine's brothers, Henry and Eli, had come to Kansas several years before.
A one-room frame house north of tracks was bought with the money made from wheat and broom corn. The schoolhouse stood on farm in yard where the new house was built south of the tracks; a two-teacher school with about fifty pupils. Later, a sort of high school was held over store building near business part of town.
Albert died 1/16/1911 age 73 after lingering illness with cancer. He had undergone surgery in 1910 at St Francis hospital in Wichita but was able to return to his home in Pawnee Rock, where he died some months later.
-- Joyce Gilbert DeZalia
---
The river's way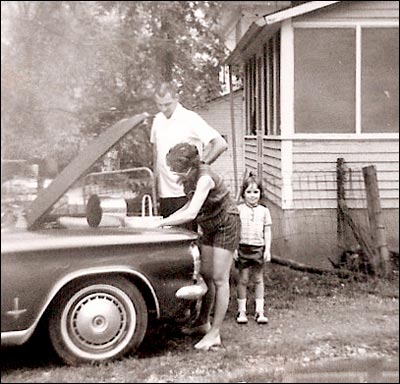 Uncle Jay, Aunt Norma, and cousin Cindy in Arkansas in the 1960s.
[April 14] My Uncle Jay once took me on a canoe trip down the Current River, which is, despite its name, a generally placid stream in the Ozarks of southcentral Missouri. This was back when I was barely past the sapling stage, shortly after graduating from college.
It was a beautiful and warm late afternoon when my mom's sister, Norma, dropped Jay and me off where a highway crossed the stream. Our destination was another crossing, three or four hours away.
Jay sat in the back of the aluminum canoe, where he could steer, watch over me, and savor his tall cans of beer (Schlitz, I think, and I took one).
There was no wind, and the pools of water beneath the bluffs were smooth enough that the reflections of streamside oaks were perfect. When I looked straight down into the Current, I saw bass above the gravel, and a heron once flew ahead of us.
My experience in small boats before this trip had been limited to a canoe once at 4-H camp, a couple of paddle boats, and a little time in our Scout troop's 12-man rubber raft. Compared to those, Jay's canoe was a sprite. I was determined to plow down the river like I had seen Daniel Boone do on TV.
Finally, Jay told me to stop. Find the right place on the river, he said, and the river will take you where you want to go. All you need to do is steer once in a while.
In the years since, I have found that to be good advice. It's not the easiest wisdom to adhere to, of course, because sometimes I feel the need to make things go faster.
At the time of our canoe trip, Uncle Jay was a radiologist in a small town. He loved medicine, and his knack was for interpreting X-rays. He joked that he chose his field because he didn't want to be around sick people, as he would be if he were a doctor with a stethoscope.
Not long ago Jay became one of those sick people, and his own X-rays showed cancer. Jay smoked quite a bit, and I'm sure that, given his medical training, he had come to some acceptance of his future. But he didn't give up the fight.
He was beaten finally by cancer and chemotherapy. Jay died Sunday morning in a hospital near his and Norma's retirement home in Arkansas, my mom called to say. (My sister, Cheryl, remembers a "storyteller extraordinaire.")
I hadn't seen Jay in a number of years. I regret not being around him more, because he was a nice guy with my sense of humor. But if I were to keep only one good memory of Uncle Jay, it would be of our canoe trip in the late afternoon of a summer day, going where the river would take us.
---
The new geography lesson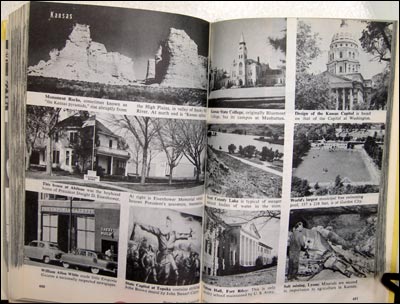 [April 13] The Internet is good for one thing, if nothing else: We can use it to watch traffic in cities far beyond our horizons.
I have watched the world unfold through these cameras for a decade or so -- not because of the traffic, which in some places is sporadic and it's nobody I know -- but because if you look beyond the highway you can see the scenery.
That's important to me because when I was a kid in Pawnee Rock I had no idea what any place outside my travel path looked like. I could guess about the states surrounding Kansas, but Yellowstone National Park was a mystery and the Soviet Union was a distant forest buried up to its treetops in snow and communists. Dallas, New York, and San Francisco were black-and-white skyscraper and bridge pictures in 1950s travel books like "Around the World in 2,000 Pictures." (At the time, this was my favorite book on my mom's shelves.)
And now we have the Internet, with its websites from all over the world and webcams in most cities, such as Dallas, New York, and San Francisco. Highway cameras are among my favorites because they're often put in otherwise inaccessible places and connected to the world by microwaves and satellites.
This comes up because Jim Dye sent us a link to the Kansas Department of Transportation's collection of what it calls its "static cameras."
Although four of the eight Kansas cameras seem to be stuck on a daylight image, four cameras apparently work 24 hours a day. For example, if you tune in at night you can see that U.S. 50 at Garden City Facing South is dark, but city lights define the horizon. (It's not clear how often the images are updated even when the cameras are working. Even so, think of all the people who normally fly between New York and San Francisco who can now see what ground-level Kansas looks like.)
And, if your're curious, here's the camera collection watching the highway nearest to where I live.
---
A photo I like: No. 82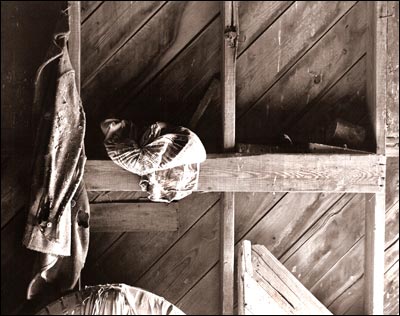 [April 12] Long after my grandparents stopped farming north of Pawnee Rock, evidence of their work remained on an interior wall in their barn. I made this photo in the 1980s as my dad and I walked through one afternoon after Grandma had been moved to the nursing home in Great Bend.
A jacket hangs from a nail, and a half-used cloth bag of seed is tucked into a shelf. A tire stands as a memorial a long-departed International or GMC wheat truck. Covering it all is a layer of dust built from plain farm dirt, ancient hay, and the poop of sparrows, pigeons, and cattle.
Even on a wet day, this part of the barn smelled dry.
---
Someday in a garden
[April 11] No doubt it's the curse of anyone who moves away from home and works for The Man to wonder what it would be like to go back where life was sane.
What would it be like to set up shop again in a Texas boomtown like Austin? To intellectual Lawrence? To easygoing Pawnee Rock?
Pawnee Rock, where I could have a garden . . .
Living where I do now, there's very little chance of raising a garden in the sense that we all grew up with. If our little plot behind the house gets enough sun on its imported topsoil, we can grow strawberries, raspberries, potatoes, cabbages, and carrots, and indoors we can force radishes and lettuce all year long. I've gotten tomatoes to set outdoors, but they meet the first frost as green and hard as the day they were born.
So when The Man bears down too hard, I think of a half-acre garden in warm earth made richer with the ammonia-stinking nightsoil of a friend's henhouse. The worked dirt smells of fertility, and my senses produce the spush-spush of a sprinkler going 'round in the early morning, the snap of a green bean, the scent of a real tomato. In my garden, there are no chiggers.
Sure, it's a lot of work to maintain that daydream garden of self-sufficiency, but I do it because it relaxes me. Moving back where I could have a real garden, however, would mean living without the mountains and extravagant amounts of water, and I imagine I'd be able to draw only part of the income I'm used to. I don't think I want to do that just yet.
My garden likely always will be a dream, and someday it may fade into nothing more than a memory drawn from childhood. You will find me there, among the warm tomatoes.
• • •
The Easter Pageant: Leon Miller writes from Dallas after reading yesterday's piece by Shiela Sutton Schmidt:
"Growing up, the Easter morning service at the Rock was topped only by Christmas morning."
---
Easter Pageant on Rock started in 1936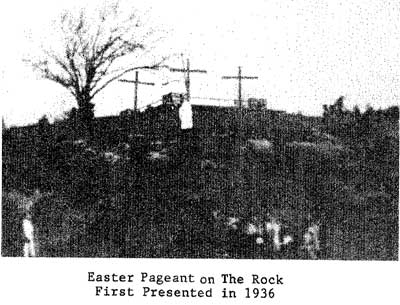 [April 10] Shiela Sutton Schmidt's 1986 history of our landmark, "Pawnee Rock: A Brief History of the Rock," includes a section explaining the Easter Pageant. She told it better than I can paraphrase, so the rest of this entry is Mrs. Schmidt's writing.
Easter Pageant
April 12, 1936, Grace Schmitt wrote in her diary, "Pageant is very impressive." She was writing about the first time the Easter Pageant was given as a community project at The Rock. So impressive was the pageant that it was given every year from 1936 to 1972. After a nine-year rest, the pageant was revived, and now is given in odd-numbered years.
It was Margaret Landon, Pawnee Rock home economics teacher, who sponsored a group of young people in giving The Way of the Cross by Dorothy Clarke Wilson in 1935. Miss Landon envisioned how the pageant could be given as a community effort staged at The Rock. She took the idea to Rev. Beverly E. Parker. He, too, was enthusiastic about the idea of the Easter Pageant by the whole community. The next year it happened.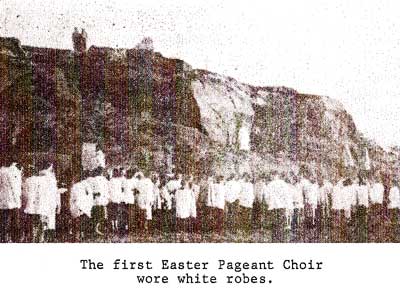 The eighteen characters in the pageant were colorfully dressed in costumes of Bible times. The one-hundred-voice choir wore white robes. An instrumental ensemble played the prelude. The audience sat on the grass at the foot of The Rock. The pageant took place on the southeast shelf of The Rock, with the higher portion making the backdrop for the action.
The story of The Way of the Cross is divided into two parts. In the first part a stranger, in modern dress, reading the Bible, expresses doubt about the truth of the Easter story. He is transported in time to the day of the Crucifixion. Soldiers, Pharisees, Children, Women, and Joseph of Arimathea all tell what they saw and how they feel about the Crucifixion.
The second part shows Easter morning. Mary Magdalene, Mary the mother of James, and Salome express bewilderment. Joseph, Peter, and John express grief and fear. Mary Magdalene re-enters. Knowing the Truth of the Resurrection, she convinces the others. The stranger, now in modern dress again, expresses belief.
The choir intersperses the action of the pageant with appropriate Easter hymns.
Some changes have taken place through the years. The high school band has played the prelude. At other times, a brass ensemble or quartet has played. During the war, the band from the Great Bend Air Base played the prelude. The high school mixed chorus was the choir some years, and sang music other than the hymns suggested in the script. Many years a piano was brought from school to accompany the choir -- with the pianist wearing gloves in the cold of sunrise on Easter morning. Lately an electronic keyboard has been used for accompaniment.
Some of the character parts have been played by the same people for a number of years. Those who played the children's parts often took adult parts in later years.
Rev. Parker was in charge of the pageant for many years. Recently his niece, Berdene Russell, has been in charge.
Many times from two to three thousand people came to see the Easter Pageant at The Rock. Only twice did the weather cause it to be moved to the school auditorium.
The pageant is a moving and impressive Eastern sunrise experience. It has been a force uniting the community.
---
"Blue and Gold our colors are"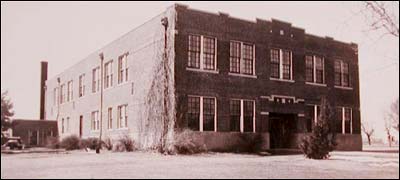 [April 9] Don Ross, who attended Pawnee Rock schools in the 1940s and who now lives in Dodge City, has been thinking about Pawnee Rock's school song. I've been looking too, but my search of what I thought would be prime resource material -- the 1918 and 1921 Pawneean yearbooks -- turned up nothing.
Fortunately for us, Don slept on it. "It finally came to me, somewhere in my old brain," he modestly wrote.
I don't think I ever heard this song (I reached high school in 1971), but I bet a lot of our readers know the melody. Thanks for coming up with the lyrics, Don:
Blue and Gold our colors are, that's Pawnee Rock High.
Known in town and all around, that's Pawnee Rock High.
If we fight with a wonderful roar,
We will win with a wonderful score,
Great personality, full of pepality, that's Pawnee Rock High.
---
Joy in the land of rock chalk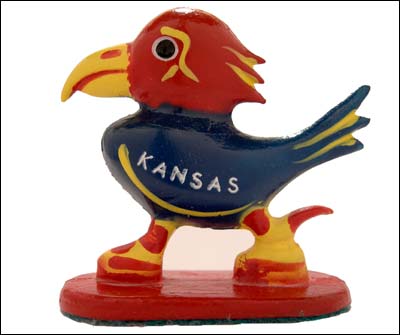 [April 8] I went to bed last night feeling vindicated as a human being. I'm probably not the only one who has way too much of himself invested in the Beloved Jayhawks; a friend of a friend said he took a double dose of blood-pressure medicine before the game.
But there they are: The Kansas Jayhawks are the national champions of men's college basketball.
By extension, so are we, you and I. The players had to work for the title, but to slip the banner around our own shoulders all we had to do was believe in those Jayhawks -- players from Oklahoma, Alaska, California, Missouri, Texas, Illinois, Minnesota, New York, and Russia who threw their lot in with the state of Kansas.
In my post yesterday, I promised that KU would be the champ or not by moonset at 10:30 p.m. As it turns out, my prediction was like flipping a coin and having it land on the edge. At 10:30, KU tied the game with two seconds left and made it go into overtime.
I'd rather see KU win the title than be right on every little detail.
I won first prize -- $81 -- in the office pool, an event that happens very rarely because I always pick KU to become the champion. In addition, my wife snuck and installed a ringtone on my phone: an unforgivable act except that it was the KU alma mater, "Far Above the Golden Valley."
Still, amid all this reflected glory I have to wonder -- have we let KU drift away from being Harvard on the Kaw and instead become a football stadium and basketball fieldhouse surrounded by some classrooms?
Let's concern ourselves with that issue tomorrow or the next day. Today, we're the champions of college basketball.
---
New moon over Kansas
[April 7] One of the enduring mysteries of childhood is how the moon followed you home. Say you started out around sunset from Hutchinson with the moon rising gloriously, and as your folks drove you to Pawnee Rock the moon followed you every mile, your friend out the window as you sped across that endless dark stretch of possums and sand hills and farmland bisected by Fourth Street Road.
Years later, perhaps while reading poems in high school, you realized that the same moon appears for everyone. This revelation often comes from the pens of writers from another age who hung their luminous thoughts of love and heroism on the moon.
Shakespeare, for example, wrote: "Romeo: Lady, by yonder blessed moon I swear . . ."
Well, today there will be a dark moon, a new moon. The moon will start its long path in the morning, sliding like a double exposure across the sky.
Few people will notice today's moon. But it is there for us Kansans, whether we're in Pawnee Rock or Wichita, Seattle or Sweden; all Kansans can find the moon and know that with our joined gaze upward we're bonded with a greater purpose, that for us alone -- because we choose it to -- the moon means hope and heroism and love.
By the time our sliver of moon slides into the western horizon, our day will be spent, yet maybe our shared hopes will survive the night among the rising constellations. By moonset, by 10:30 p.m., the Kansas Jayhawks will be either the national champions or not.
• • •
On another topic: I ran across a few lines of a poem, not to the moon but to a wanderer, by German writer Goethe as I was reading John le Carre's novel "Absolute Friends," and I don't know whether I've ever felt a greater sense of poetry-inspired nighttime peace.
Here is "Wanderer's Night Song" in German, followed by a translation:
Wandrers Nachtlied
Über allen Gipfeln
ist Ruh,
In allen Wipfeln
Spürest du
Kaum einen Hauch;
Die Vögelein schweigen im Walde.
Warte nur! Balde
Ruhest du auch.
Over all the mountaintops
it's still.
In all the treetops
you can barely feel
a breath.
The birds in the wood fall quiet.
Just wait . . . you too will
soon rest.
-- Translation by Michael Huffmaster
---
The Jayhawks who didn't quit

[April 6] Saturday was a lucky day. If you saw the Final Four basketball game between Kansas and North Carolina, you know that it was the luckiest first twelve minutes the Jayhawks have played in years. The second half of the game showed that the big run in the first half wasn't all luck and that KU deserves to play for the championship Monday.
On his last day as a nine-year-old, my son Nik sat with me during the second half. How much luckier could a dad get than to have that particular game in which to show off his team to his son?
Our day was kind of like KU's. It started off well when I took Nik, wearing his red KU T-shirt, to lunch, and then he wanted to go bowling. Poor Nik. He hadn't been at an alley for at least two years, and yesterday afternoon he just about wore out the gutters. Twice he took off his shoes and threw them down in anger, and twice he put them back on and bowled, because he's enough of a competitor to get really angry at himself but too much of a competitor to quit.
I stopped short of patting Nik on the shoulder and telling him that it's only a game. And by the end of our second line, he was bowling pretty well.
When Nik joined me later in front of the TV, KU had blown its big lead to a rival that dwarfs K-State. I may have scared Nik with my waving and shouting, but he hung in there. And so did our Jayhawks.
KU made its own good luck and ended up running away with the game. I was lucky, too -- Nik didn't have to pat me on the shoulder and tell me that it's only a game.
---
A photo I like: No. 81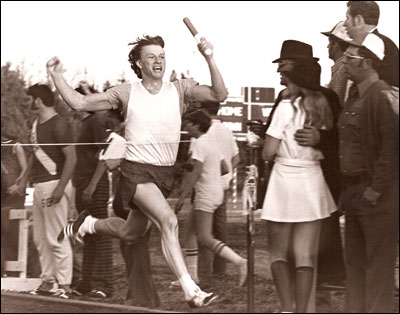 [April 5] I made this photograph of Wally Parrish winning a relay race in Stafford when we were seniors at Macksville High. Wally lived near Radium and was a natural athlete, and he worked hard to keep himself in tiptop shape.
This photo, taken late in the afternoon in 1975, is one of my favorites. It catches Wally in midstride, milliseconds from breaking the string at the finish line. However, the crowd -- including the man holding both the stopwatch and the girl in the dress -- is more interested in a hometown racer who must be coming in a distant second. This shining moment is Wally's alone.
---
What's our fight song?

[April 4] I know the music and words to the University of Kansas fight song, "I'm a Jayhawk."
I remember the trumpet fingerings for Macksville High's fight song, "Hail to the Victors."
But for the life of me, and even though I played it at football and basketball games my freshman year, I can't remember Pawnee Rock High's fight song.
Please, can someone help? Can you send the words or a copy of the sheet music?
I imagine that the song is a knockoff of some college's song, a common practice.
The University of Michigan provided "Hail to the Victors," and the Notre Dame "Victory March" has been copied by innumerable high schools. Kansas State has "Wildcat Victory" ("Fight you K-State Wildcats . . ."), as well as "The Wabash Cannonball," which it shares with Larned High. The University of Texas tweaked the words to "I've Been Working on the Railroad" to come up with "The Eyes of Texas Are upon You."
Now, I don't want to cast aspersions on the universities of either Oklahoma or North Carolina, but perhaps one cast aspersion could kill two birds:
I'm a Tar Heel born,
I'm a Tar Heel bred.
And when I die,
I'm a Tar Heel dead.
So it's rah-rah, Car'lina-'lina!
Rah-rah, Car'lina-'lina!
Rah-rah, Car'lina-Rah, rah, rah!
I'm a Sooner born
And a Sooner bred,
And when I die
I'll be Sooner dead.
Rah, Oklahoma! Rah, Oklahoma!
Rah, Oklahoma! O-K-U!
Here's a grand list of college fight songs.
---
A bad day on the road
[April 3] Gary Trotnic's scooter photo stirred up a memory that Leon Miller may wish he had forgotten -- although we never really forget this kind of thing. Here's what he wrote yesterday about an incident in the late 1940s: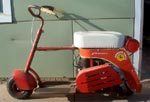 Today's picture of the scooter reminded me of a time when I was about 13 or 14; one of my buddies, Richard Spreier, had received a Cushman Motor Scooter from his parents. Richard invited me to ride along with him on the back of the scooter for a trip to Larned, which seemed to be a L-O-N-G trip at the time (8 miles).
"We headed west on US 50N (now US 56) and just before we got to Ash Creek we came upon a stretch of pavement where the highway department had recently laid down fresh tar but had not installed warning signs. When the scooter hit the tar Richard lost control and we both went flying through the tar and onto the grassy shoulder. I picked myself up, checked to see if everything was alright. Other than being covered with fresh tar I felt very lucky and we headed back into Pawnee Rock.
"The experience taught me never to get on something that I couldn't control or handle. I've never been on a motor scooter or a motorcycle since that time.
"PS. Loved the Jayhawk version of the Lord's prayer."
---
Fly, drive, scoot like a kid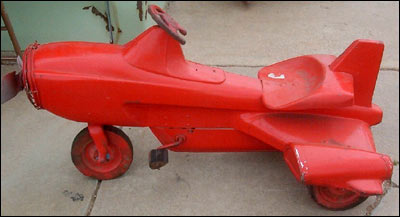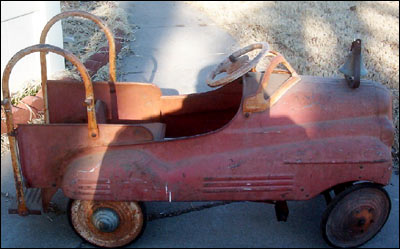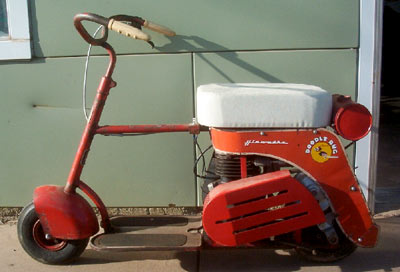 [April 2] Gary Trotnic is having some fun with his shop, The Ole Peddler's Flea Market, in Great Bend. He took over the spot at 2646 North Main on February 1.
He sent some photos of items he has come across -- items that you and other former kids of a certain age might remember.
There's the Atomic Jet from the 1950s. "On the front it should be a nose cone like the jets have," he wrote. "I guess it was broken or lost. They replaced it with a fan shroud and a fan blade. You can find replacements just about anywhere to fix them up."
And how about that fire engine, which used to be popular enough that they showed up in magazines and books for kids. "Everything works on this one," Gary wrote. "The pedals are free, bell works, just needs a little paint."
The scooter looks like something you might find in the back of a wooden garage. The Hiawatha Doodle Bug scooters -- 40,000 of them -- were made between 1946 and 1948. This particular version was one of 750 to 1,000 manufactured with a Clinton engine, Gary wrote, making it the rarest model.
---
History of the gray house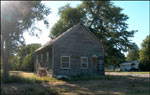 [April 2] Susan Unruh, who grew up a block west of the house in question, sent this bit of history:
I think today's house, 4-1-08, was originally an old small country school house that Stan Tutak moved in for a rental. The first persons I remember living there were LaDonna (a great nurse at St. Joseph's in Larned) and her daughter Nicki. Nicki is married to Eric Roof and still lives in Pawnee Rock." (She's also a member of the city council.)
---
Rock Chalk, Pawnee Rock

[April 2] OK, I know that PawneeRock.org isn't intended to be a forum for KU basketball, but this Final Four week is like the week before Christmas for many of us.
Let's keep in mind that Pawnee Rock, for better or worse, has sent a fair number of its sons and daughters to Mount Oread.
In that spirit, Mandy Sheldon passes along a poem that's popular in northeastern Kansas, and Ray Randolph sends a photo of a basketball legend.
The Jayhawks' Prayer: To be shared with all loyal and true KU fans and repeated hourly until gametime, Saturday!!
Our Father, who art in Lawrence,
Hallowed by thy Game,
Thy tourney come,
Thy championship will be done, In San Antonio as it is in Allen Field House.
Give us this day our deserved victories.
And forgive us our turnovers,
As we forgive Roy who double-crossed against us.
And lead us not into defeat,
But deliver us from East Coast bias,
For Kansas is the basketball kingdom,
And the tradition,
And the glory,
For ever and ever.
AMEN!

GO JAYHAWKS!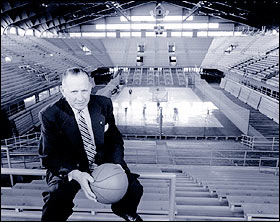 Phog Allen in his field house: Ray wrote: "If I remember correctly, I found this photo in the Library of Congress collection. That constitutes attribution and credit. The following caption is mine:
"Gentlemen, my name is Forrest Allen. Some people call me Phog. You may call me Coach. Behind me you see the place where we here at Kansas University play Dr. Naismith's game of basketball. And this, the object I hold in my hands, is a basketball. It's my job to teach you what to do with it."
ROCK, CHALK, JAYHAWK, KU
---
Details about the Logans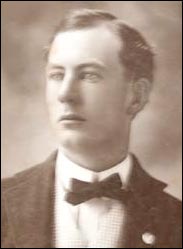 [April 1] A few days ago I wrote about Dennis and Maggie Logan of Pawnee Rock. He was a shopkeeper and bank director, and for a while she was the mayor. I didn't have Maggie's death date. Fortunately, I do have a curious cousin.
My cousin, Brenda Jones of Great Bend, did a little research in the probate and deed records and discovered a lot of interesting stuff:
Maggie Logan died May 22, 1937. She outlived Dennis R. Logan, who died January 6, 1924, "in the 75th year o fhis life." He was survied by Maggie, then 69, and by two grown children who lived in Pawnee Rock: Helen A. Logan, later Peterson, age 27, and H. Earl Logan, a/k/a H. E. Logan, age 40. The photo here is of Earl Logan. (Earl's wife also made the news.)
• • •
Metrecal: Jerry Allen wrote: "I too remember the Metrecal era and all the commericals. Did you ever hear the joke about the guy who invented Metrecal? He won the Nobelly Prize that year."
• • •
Hardwood heroes: More on Sunday's basketball clash:
"It's just a game," wrote Ray Randolph, "yeah, for people who don't bleed Jayhawk RED and Jayhawk BLUE.
"As I posted on Cheryl's site, I, too, uttered a few words of 'encouragement' during the game, especially when the clock was running down with just a few minutes to go. And now on to San Antonio ..."
I asked ex-Pawnee Rocker Leon Miller, who lives in Dallas, only five or so hours north of San Antonio, whether he'd be at the Alamodome.
"Man, would I ever love to go! But I may be getting a little old to battle a crowd like that! I put on my KU t-shirt yesterday and sat by myself in front of the TV. My wife can't seem to get the jist of just how important this weekend is!
"It dawned on my today that I was at school 50 years ago when KU played North Carolina in the finals of the NCAA tournament in Kansas City. I had a serious relationship going with a Kappa Gamma and we watched the game at her sorority house. Ironically, the score was similar to what KU-Davidson was 57-55. They played 3 overtimes and neither team scored in the second overtime. It was the ultimate chess game. Frank McGuire outcoached the KU coach, I don't even recall what his name is now. [The score was 54-53, and the coach was Dick Harp.]
"The consolation for the game was that Louis Armstrong had played a concert in KC that night and word got around that he would come to KU and give a free concert at the student union. Since there was a curfew for girls at the time, the dean of women proclaimed that under the circumstances the curfew would be extended to 3:00 a.m. My girlfriend and I went over there and as Louis Armstrong/s band was playing the KU team came into the building led by Wilt Chamberlain. It was an evening to behold.
"I'll never forget it, although I did forget the girl and waited until I got to Dallas to find my wife."
---