Announcements
Give us your Pawnee Rock news, and we'll spread the word.
Check these out

Flyoverpeople.net is PR native Cheryl Unruh's chronicle of life in Kansas. She often describes Pawnee Rock and what it has meant to her.



Explore Kansas encourages Kansans to hit the road -- all the roads -- and enjoy the state. Marci Penner, a guidebook writer from Inman, is the driving force of this site.



The Santa Fe Trail Research Site, produced by Larry and Carolyn Mix of St. John, has hundreds of pages dedicated to the trail that runs through Pawnee Rock.



Peg Britton mowed Kansas. Try to keep up with her as she keeps Ellsworth, and the rest of Kansas, on an even keel. KansasPrairie.net



• • •



Do you have an entertaining or useful blog or personal website? If you'd like to see it listed here, send the URL to leon@pawneerock.org.
Contact PawneeRock.org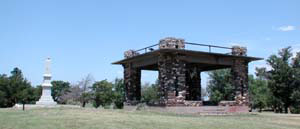 For an overall view of Pawnee Rock and three counties, climb up the pavilion atop the Rock.
E-mail the editor
Contact Leon Unruh with questions about PawneeRock.org's stories and photos, or if you'd like to send ideas that we might use. Send your e-mail to Leon at PawneeRock.org.
Send photos
We'd like to display your photos of current or historical Pawnee Rock on PawneeRock.org. Attach photos as jpg or gif files, no bigger than 800 pixels wide and no deeper than 800 pixes deep. The copyright remains yours. E-mail your photos to Photos at PawneeRock.org.
News
Send news about Pawnee Rock or about your organization to PawneeRock.org. Just write it up -- remember Who, What, Where, When, Why and How -- and double-check phone numbers and names. Then e-mail it in the body of the message or send it as a Word attachment to News at PawneeRock.org.
Sell it
Advertise here to an audience that's already interested in Pawnee Rock:

Housing
Land
Antiques
Estate sales

Or tell someone happy birthday.

Advertise on PawneeRock.org.



• • •