Leon Unruh, on the south slope of Pawnee Rock in July 2005.
About Leon Unruh
I'm the creator and editor of PawneeRock.org. I was born in Larned and raised in Pawnee Rock.
I created PawneeRock.org as a way of keeping in touch with our -- yours and my -- hometown. I want my sons to understand what the town's like, I want to show Pawnee Rock off to others, and I want to preserve our memories of it.
After graduating from the University of Kansas, I worked at newspapers in Wichita, Austin, Dallas and Anchorage. I got my start in journalism at home, typing and publishing the Pawnee Rock Informer every week or two from fifth through seventh grades. Now I edit books and websites and am the editor at the Alaska Native Language Center in Fairbanks.
My parents are Elgie Unruh and Anita Byers. My sister, Cheryl Unruh, lives in Emporia, where she writes a column for the Emporia Gazette and runs her website, Flyoverpeople.net. Most of you know Dad well. He may have driven your school bus or delivered your mail, and as a 4-H leader he might have taught you how to make a cabinet. Maybe he dug and cared for a relative's grave at the Pawnee Rock township cemetery. Dad grew up just north of town and lived next to the old fire station for about 50 years.

Like most of the kids in town, I was involved in many things. Among them were the Pawnee Rockets (later Pawnee Rockers) 4-H Club, the Boy Scouts, the Mennonite church, and football, basketball and track. After our high school was closed, I enrolled at Macksville High. I marched with the Argonne Rebels in Great Bend for three years. I earned money by bucking bales, topping milo, mowing the Rock and helping Dad dig graves at three cemeteries. (Some of my cemetery experiences later showed up in a book, Final Destinations.
With a darkroom in my bedroom, I took thousands of photos of Pawnee Rock and other towns; many of them were published in the Larned Tiller & Toiler and the Great Bend Tribune. And a lot of them will be published again on PawneeRock.org.
I hope you'll send your thoughts, memories and photos about Pawnee Rock to PawneeRock.org. I think a lot of people who've passed our way would love to hear from you.
If you have suggestions or corrections, please let me know.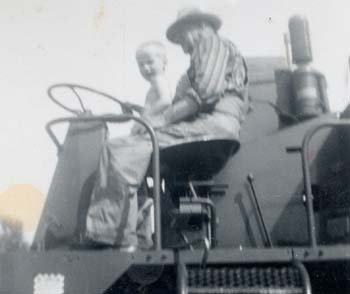 My paternal grandpa, Otis Unruh, lets me drive his combine in 1959.